I'm Susanna and I'm delighted to be the Executive Head at Sketchley School. It is a very special place for very special children.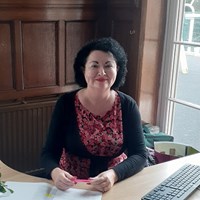 Originally from the North East, I have lived and worked in the Midlands for the last five years. My background is predominantly in the independent schools sector and in autism in particular. I am a passionate advocate that every child matters, and have dedicated my life to making a difference to children and their families. I have throughout my career challenged myself to gain new knowledge, experiences and skills in order that I can remain at the forefront of educational development and steer my schools, safely, progressively and productively to brighter futures.
Safeguarding children is at the core of all I do, and in my personal life I am a Magistrate who specialises in Child and Family Law. I operate an open door policy and you will find me approachable and transparent. I want the best for your child, as do you and I know that we will work together, in partnership to secure positive outcomes.
Susanna Craig. JP. BEd. MEd. MBA.
Executive Head Teacher at Sketchley School
Our Staff Team
Sketchley School's staff team are highly knowledgeable autism educators, with a wealth of specialised experience and training. They re-engage our young people with learning and provide the support that they need to achieve rapid and significant progress, academically, socially and emotionally.