Staffordshire children's home rated 'Outstanding' by Ofsted
Staffordshire children's home rated 'Outstanding' by Ofsted
Staff at our Staffordshire children's home are celebrating after recently being rated as 'Outstanding' by Ofsted.
In the report, Ofsted praised The Crescent and said: 'Children receive exceptional care that meets their complex needs. They are very well supported by staff who know them extremely well. A passionate and caring staff team provides children with a loving and warm home environment. The staff are fully committed to ensuring that children achieve positive outcomes.'
The inspectors went on to say: 'The staff team is vastly experienced in caring for children with complex needs. They are knowledgeable about each child and are attuned to their needs. For example, staff have worked alongside a child's family to address her high levels of stress and anxiety when settling into the home. Individualised and well-considered plans ensured that staff worked consistently to help the child to settle and make positive progress.'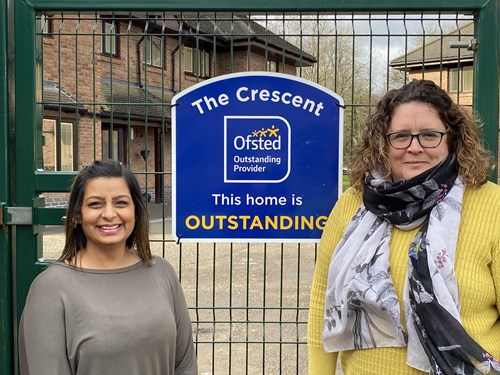 Inspectors also highlighted throughout the report the positive feedback received from professionals and parents. Ofsted said: 'Professionals speak highly of the home and the positive effect that the care provided has on children's lives. One professional, who has been involved with two of the children who live in the home, detailed the exceptional progress that children have made since moving to this home. Another social worker told the inspector that the home is fantastic, and the staff and manager are a delight to work with. The registered manager communicates well with families so that they are kept up to date on their children's progress.'
The report continued: 'A parent told the inspector that their child had made great progress since moving to the home. They said that the registered manager always answers any questions and discusses visiting plans with them. This means that children maintain important relationships and continue to develop their identity needs.' 
Situated within Staffordshire, The Crescent is part of Aspris Children's Services and provides care to young people aged 10-19 years with an autistic spectrum disorder (ASD) and complex associated difficulties.
Laura Rider, Registered Manager, said: 'It is a real privilege to lead an 'Outstanding' service, and this is a great credit to all of us who work at the residential home. I would like to take this opportunity to thank my team, our young people and their relatives/guardians."
Chris Strong, Chief Operating Officer at Aspris Children's Services, said: "Laura is an exceptional Registered Manager, who leads such a talented and hardworking team at The Crescent. It is a remarkable achievement to be rated 'Outstanding', and everyone involved deserves such a huge congratulations. The staff team there do a brilliant job and I am so pleased this is reflected throughout the report."