Moving into higher education presents new challenges for young people with autism. The change in environment and the variation in the ways your child is expected to work are amongst the key differences between college and university. There are, however, ways in which a student with autism can be supported.
Written with the help and direction of Julia Robinson, whose daughter has undergone the process of transitioning to higher education, we consider how to approach the next step for your children.
Research the course
University courses may offer a wide variety of study options, and often there are choices to be made going into the 2nd and 3rd years of a degree as to which module options a student would like to study going forward. These choices will expand upon the ways in which your child is expected to learn. However, they may find particular ways of learning more challenging than others. Group work, for example, may be harder for them to understand, when they may be given a mark based upon the work of the group and not simply their own contribution. This may be difficult to comprehend. Other modules may require presentation work to be done and involve speaking in front of a small or large number of people. There are even new aspects of essay writing to consider, such as referencing systems (this is dependent on which the university uses) and adopting an 'academic style'.
A young person's preferences and strengths need to be taken into account. For example, if they prefer a practical approach, they may struggle with theory-heavy work or vice versa.
The course material is unlikely to have been designed with autistic learners in mind. Your child may at times find things difficult to follow during lectures, and need something explaining in a different way in order for them to understand it. The use of a voice recorder can be helpful, so they can review lectures and seminars retrospectively and get a better understanding of things they struggled with at first.
Available resources
Technical aids can be provided for students, covered by the Disabled Students' Allowance, based on the outcome of an assessment. This means the equipment they are provided with is tailored to your child's needs. This may include a laptop set-up with visual learning tools to produce useful aids such as mind-maps, software to use with a voice recorder, speech recognition software and a scanner.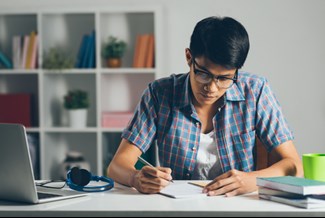 If you are open and engage with the university about a learner's needs then you may secure additional support. This may include a note taker or a mentor for your child. In the case of having a mentor, you can then meet with them regularly to discuss what's going well, what isn't, and how to best approach existing challenges. It is through opening the channels of communication with the university that you can receive the best support for a student with autism.
Allison Hope-West, former Director of Autism, adds:
"It is a significant step forward that universities are now starting to address some of the issues facing young people with autism and are making provision which supports them to access learning whilst keeping their anxieties and sensitivities in check. I hope that this continues to grow and develop."
Research the university campus/surroundings
Travelling to and from university independently could be difficult for a young person with autism. It may well be the first time they are doing this, and there may be challenges to overcome in terms of changing times and routes of public transport.
Your child may be too uncomfortable travelling independently because of difficulties they have experienced previously. This would likely mean they will need help travelling to and from university, so the need for a degree course to coincide with parents' work schedules arises. You should be sure to consider the long-term with this as lecture and seminar schedules will vary going into a 2nd and 3rd year.
It is a huge commitment over what will be at least three years and it's important to make the right choices each step of the way. It may also be advantageous to look into the options of a Foundation course. This could ease the transition to higher education. Although college is a good grounding in what to expect, a university is a whole new world in comparison, and it may not be possible to drop back into a lower level of education once part of a degree course has been completed. It would be best to ensure that, should things not work out, there are options are available beyond this.
There is support available, but universities will vary on where they currently are in their support capability. This means it's vital to choose the right university and learning environment for your child.
For more details on Aspris Children's Services, please call 0118 970 8068 or click here to make an enquiry.