Coxlease School officially opened its new post-16 centre, 'The Hub', this week.
The Hub operates in addition to the main school site, recently rated 'outstanding' by Ofsted, and provides education and vocational training for young people aged 16 to 18. The Hub offers a range of vocational qualifications across a number of areas including construction skills, health and safety at work, painting and decorating, independent life skills, employability skills and GCSE English, Mathematics and IT.
Guests at the opening were treated to a buffet and a tour of The Hub and were shown the young people's individual construction bays, a personal space custom-made for them to showcase their work and personal achievements at college and at The Hub.
The Vice Chairman of New Forest District Council, Goff Beck, neighbouring LA Commissioners for Children's Services, and local college representatives attended the opening. Simon Trant, Managing Director (International) of the internationally renowned local company, Trant Engineering, had the privilege of cutting the ribbon. The Hub and Trant Engineering are planning an integ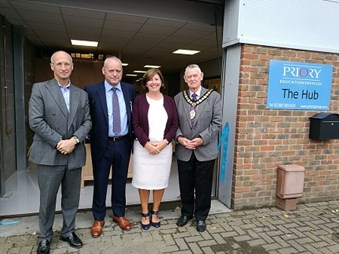 rated programme of work experience and training for some of the students to enhance and extend their studies.
Coxlease School has a long established sixth form provision which was rated 'outstanding' by Ofsted earlier this year. Inspectors said that the post-16 programmes were "led excellently". It praised the work experience programmes delivered for being "carefully planned" and linking "very effectively to develop learners' vocational learning". Coxlease School was also rated 'outstanding' overall and in all other categories.
The School Principal, said: "2016 has been an amazing year for Coxlease School. Early in the year we were recognised by Ofsted as being an 'outstanding' school. We haven't rested on our laurels though and we are really pleased to be able to offer The Hub to older students from Coxlease School and its sister School, Clay Hill, who now have the opportunity to progress to Further Education in a specialist new centre with excellent facilities."
For more details on Aspris Children's Services, please call 0118 970 8068 or click here to make an enquiry.