Celebrating Christmas at our children's homes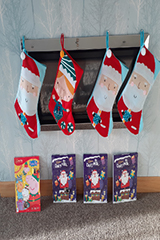 Celebrating Christmas at our children's homes
With Christmas just around the corner, our children's homes across the UK are starting to look very festive. Staff are taking the opportunity to bring some light and joy to the children and young people that we support by decorating the homes and gardens, as well as introducing a range of fun Christmas activities.
For some of the vulnerable young people in our care, Christmas can be a difficult and unsettling time. At Aspris Children's Services, we believe that every child deserves a Christmas to remember, within an environment that is safe, nurturing and homely.
Our highly trained staff teams are focused on providing a positive experience for the young people at this challenging time of the year, which has been further challenging for the young people due to the current Covid-19 pandemic. Please find below a selection of the many festive activities currently taking place at our children's homes across the UK.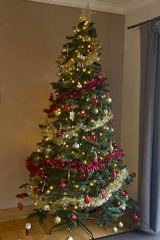 Enjoying a wide range of Christmas activities
The young people who live at one of our children's homes in South Wales were excited to safely meet Santa in his grotto and then choose their Christmas tree together at a farm. They have enjoyed decorating the tree and hung up stockings by the fireplace for when Santa visits.
Staff at the home are also rehearsing for a pantomime about the true meaning of Christmas. While a trip to the theatre may not be possible this year, they want to ensure that the young people will not miss out on having fun at a show. The pantomime will be followed by a party, with games, food and singing of Christmas songs. It will be one young person's first experience of the lead up to Christmas while living at the home, so staff members are making sure that he will have some happy memories to share with his family when he joins them for Christmas Day.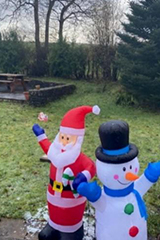 At a nearby home in South Wales, two of the young people have planned a special Christmas dinner, with the support of staff. They have invited all of the other children and members of staff, borrowing tables to ensure that everyone will have somewhere to sit, while following social distancing rules. The young people have put together a menu, organised games and a Secret Santa for their guests.
Across our Herefordshire homes, children have got into the festive spirit by wearing their Christmas jumpers together for Christmas Jumper Day. They are looking forward to parties that will take place closer to Christmas. At one home, the young people are excited to be attending a special outdoor Winter Wonderland event, where the highlight will be safely visiting Father Christmas' toy workshop.
A 'mischievous elf' called Dom has been spreading some Christmas magic at our children's homes in Hampshire. Each day he is caught on camera up to no good, such as stealing fruit from the fruit bowl. The young people are watching out for Dom and hoping to catch him in the act of his next trick. Dom the elf also sets the children a daily Christmas challenge, these have included doing their best Santa impression and pretending to melt like a snowman.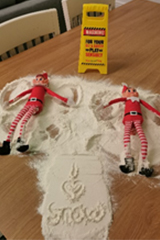 The young people have also been looking out for the 'elf on the shelf', who has been busy across our children's homes. At one of our sites in South East Wales, the children have enjoyed seeing what the Christmas elves have been up to each day. This has included lying in flour (rather than the usual snow) to make snow angel shapes and appearing in their cereal to remind the young people to eat their breakfast.
In Scotland, the children's homes located across Ayrshire have also enjoyed a range of Christmas activities. At one of these residential care services, an elf has visited the young people and invited them to a Christmas party that will be taking place at the site, with music, games and prizes. Each young person also has their stocking ready at the fireplace and an advent calendar to count down to Christmas.
At another one of our services in Scotland, staff have worked with the young people to choose a festive colour scheme of gold and red, then decorated their home together. They chose a selection of outdoor decorations, including a snowman and Christmas tree, which light up their garden at night. Two other children's homes have also been transformed with an array of decorations and beautiful Christmas trees, as well as the young people enjoying playing festive games and watching lots of Christmas movies together with the staff.
Get in touch
Aspris Children's Services provide a network of specialist schools, colleges and residential care services across the UK for children and young people with a range of needs. Our aim is to make a real and lasting difference, and help to change the lives of every child and young person that we support.
If you would like to find out more about our range of services, please call us today on 0808 273 3597 or complete our online enquiry form.