Bonfire night is a spectacle that many children enjoy, from the thrill of the fireworks to the fun of waving a sparkler around. However, for children with autism, they may feel more akin to a Catherine Wheel,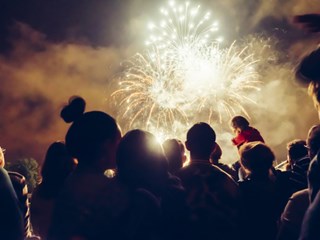 spinning out of control. There are some aspects of the festivities they may find distressing or overwhelming and anxiety-inducing. For example, those who are hypersensitive to noise will struggle to cope with a firework display, loud and unpredictable, or for others the flashing lights and different colours may be unbearable.
However, there are several ways in which you can prepare your child for the night to make it a safe and enjoyable experience.
It's all in the planning
Creating a countdown is a good idea and recommended in the lead-up to any event. Within this countdown, outline the order in which things will happen on the day to help prepare your child. Using social stories will also help to give a child with autism a good idea of what to expect.
Showing your child video clips of fireworks in the lead-up to the evening can help them become accustomed to the experience. It is also worth noting that some people will have firework displays at home in the days leading up to November 5th, and also several days afterwards. And it may be wise to allow your child to see sparklers beforehand and to see they are safe when handled properly.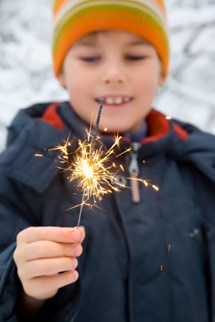 Provide ear muffs/ear defenders or ear phones to help block out the noise for those with sensory issues. This can be a strong defence for them and enable them to enjoy the visual aspect of fireworks. You can find ear defenders that still allow speech to be heard, or if using ear phones, think about either playing calming music or music favoured by your child.
These ideas can all help when attending an organised event. There may even be local events designed to be autism-friendly, so it is worth looking into this. If you're attending an event, autism-friendly or otherwise, it is important to ensure your child is as comfortable as possible. This can mean ensuring there is food and drink, make sure they're dressed comfortably and warmly, and they may also like to have something with them such as a game or toy they find reassuring.
Try to watch from a distance too; this can also help shield them from the noise but also take them away from a potentially overbearing crowd. At most public or ticketed bonfires and firework displays there will likely be a lot of people around so this is a favourable option, perhaps even watching from the safety of the car. It is dependent on how your child is around crowds, but at such a thrilling event the crowd may be quite boisterous, so it's something to bear in mind.
Have your own Bonfire night
By staying home and conducting your own firework display you can control the action from start to end and ensure your child is comfortable throughout. In this way you can allow them to watch from the safety and warmth of your home, allowing them to enjoy the spectacle. You can also play favoured music or a television to drown out the noises of fireworks and maintain serenity.
This also allows you to run everything according to schedule, something that may be subject to change for public displays, ensuring your child isn't made anxious by disturbances in the timing. Conducting your own display also means you can choose which fireworks you wish to use, quieter and more appropriate ones based on your child's preferences.
If your child is still worried or scared, there is always the option of a 'digital display', where you can watch videos or films and control the volume.
It's also important to just be calm and relaxed in yourself and this attitude can filter down to your child, showing them they are in a safe environment. Take the opportunity to discuss practical fire safety as well and reinforce the idea that doing something properly, and with the appropriate safety precautions is best.
Overall, you will know your child best and their specific needs. By planning thoroughly and accommodating your child's needs, you can have a Halloween and a Bonfire Night which the whole family can enjoy. Aspris Children's Services hopes this two-part autism guide has proven useful and allowed you to make the most of this exciting time of year.
For more details on Aspris Children's Services, please call 0118 970 8068 or click here to make an enquiry.