During the current COVID-19 (Coronavirus) situation, the staff teams across our schools, colleges, children's homes and fostering services, have been introducing a wide range of imaginative ways to engage with the children and young people that we support.
While there is no longer the same access to some of the activities that they previously enjoyed, our young people are being supported to still have fun, work together and take care of their physical and mental health in these extraordinary times. They have even been helping the community, where possible, and showing their appreciation to the NHS.
In this blog post, we share with you some of the activities our children and young people have participated in during the recent weeks. We will also continue to provide regular updates on the activities that are taking place across our sites going forward.
A selection of the many activities taking place during COVID-19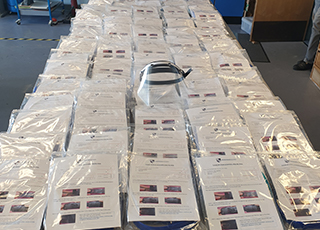 When Rossendale School in Bury, Lancashire, heard about the limited number of visors available for staff at a nearby hospital, the Head Teacher decided to ask if the students still in school would like to help out. Pupils were eager to get involved and together with their Design Technology teacher, made a number of visors that were then delivered to the hospital.
Pupils at Tadley Court School in Tadley, Hampshire, were also keen to make a positive difference and have been working together to produce care packages for older people and those directly affected by COVID-19. Each care package includes a number of helpful items, including teabags and biscuits, to provide a little bit of help and kindness during these difficult times.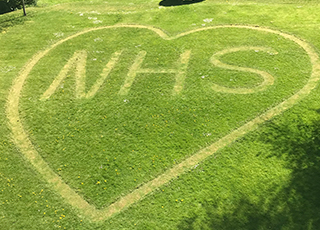 The initiative to give thanks to all of those people helping others at this time has continued across our residential care services. A resident at Penygaer House children's home worked with staff to create a box of toiletries, food and other care essentials for nurses at a nearby hospital. A child living at Villa Real children's home also wrote a letter to say thank you to all of the staff for the support that they have provided to the children at the home during the current COVID-19 crisis.
Everyone at Farleigh Further Education College in Frome, Somerset, is showing their appreciation for the NHS, having created a huge love heart in their lawn. The display celebrates our health workers, as well as brightening the day of those passing by.
Across our residential care and fostering services, the young people that we support had a great time taking part recently in an Easter baking competition, with the best bakers receiving special certificates and Easter egg prizes.
At Darley Cottage children's home, the young people have been busy with arts and crafts projects, creating a huge rainbow for the entrance gates and a chalk mural on the drive. The children who have social, emotional and behavioural needs, have also enjoyed baking a range of treats and banana bread, which is now a particular specialty.
As the UK has been enjoying some sunny weather, the children and young people living in our children's homes have been also encouraged to make full use of our gardens and outdoor space. Getting active has physical and mental benefits, and can make a positive difference.
Get in touch
Please continue to regularly visit our news and blog section of the website to stay up-to-date on activities taking place across our services.
If you would like to find out more about how we can help to support your child or a young person in your care, or to make a referral, please call 0808 256 9058 or complete our online enquiry form.