Inspectors say young people at Park View get an "exceptional level of care and support"
"People's independence had greatly increased because of the support and learning they received from staff"
Staff are described as "exceptionally caring"
A young person's family member says staff are "absolutely phenomenal" and "extremely caring"
A college's residential home in Stoke-on-Trent, for young people with autism and learning disabilities, has been rated 'outstanding' by the health and social care watchdog, the Care Quality Commission (CQC).
Strathmore College is a day and residential college for 16-to-25 year olds with autism and learning disabilities. Park View is a residential home and is part of Strathmore College. The young people who reside at Park View attend daytime classes or work experience programmes organised through the college's teaching and learning provision.
In their report about the care and support provided by Park View, CQC inspectors said, "People living at Park View experienced an exceptional level of care and support which promoted positive outcomes for people. Staff were motivated and proud of the difference they had made to people's lives."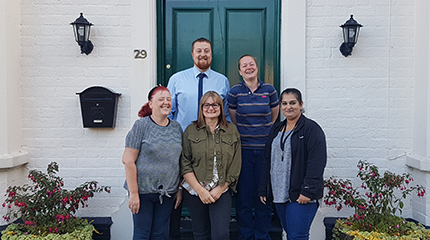 The CQC went on to say, "People were cared for by exceptionally caring staff. People's independence had significantly improved because of the support they received."
A young person's family member told inspectors, "The staff are absolutely phenomenal. Extremely caring and staff are so proud of the achievements people have made." Another relative said, I am proud to see my relative living independently, which I never thought would be possible. This is a result of the caring and nurturing support staff have provided."
The report mentioned that Park View is proactive in helping young people to develop employment skills and to find suitable opportunities. Inspectors said that the staff held an employer event to demonstrate the skills young people have to offer. A young person's family member said, "My relative has become so much more independent, more than I could have imagined. They are very proud of the fact that they go to work."
Staff had a "genuine passion for enabling people to pursue their interests", according to inspectors. Young people were part of a badminton team that won team of the year. A young person's family member said, "The badminton has given my relative a new focus, and it is amazing that they attended the awards ceremony overnight as in the past they were unable to stay away because it was too stressful for them. Because they trust staff and staff have worked with them to allay their fears they have been able to join in with their celebrations."
Park View was rated 'outstanding' overall, as well as in the "is the service caring", "responsive" and "well-led" assessment categories. The service was rated 'good' in the "is the service safe" and "effective" categories.
Park View is located in Dresden, Stoke-on-Trent, Staffordshire. The home is part of Strathmore College, which has its main site located in Stoke. Strathmore College with Park View is managed by Aspris Children's Services.
Kate Ward, Principal of Strathmore College and Park View, said: "It is a real privilege to lead an 'outstanding' service. Park View was praised in so many areas, and this is a great credit to all of us who work at the residential home. I want to thank my team, our young people and their relatives for contributing so much to the community at Park View."
Chief Operating Officer at Aspris Children's Services, said: "It is excellent news that Park View has been rated 'outstanding'. Everyone involved with Park View deserves such a huge congratulations. The staff team there do a brilliant job and I am so pleased this is reflected in the report."