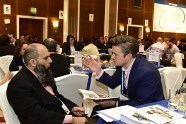 Priory Education and Children's Services once again attended the ICEF Dubai Workshop this month, as well as the Bahrain Schools Expo.
During the ICEF Dubai Workshop, our experts Adam Foster and Andy Cobley delivered a seminar to agents on identifying autism, ADHD and other Special Educational Needs (SEN) in children. The presentation received outstanding feedback from all those that attended.
The presentation topics included:
What is autism?
Living with autism
The impact autism has on family life
The social impact of autism
Improving education outcomes
Why we should be concerned about the mental health needs of young people
Early interventions
Why a special school?
Accessing special education
At the Bahrain Schools Expo, Adam met with a wide range of people and groups including parents, agents, treatment centres and educational institutions from across Bahrain, to raise awareness of education in the UK and supporting children with SEN.
Contact us today
For more information on the education services we provide at our British schools for children from around the world with autism, ADHD and other Special Educational Needs, or to become one of our agents, please call +44 (0)208 108 2571 or click here.
We would also be more than happy to show you around one of our schools. Please do contact us when you are next in the UK to arrange a FAM tour.